First off, this: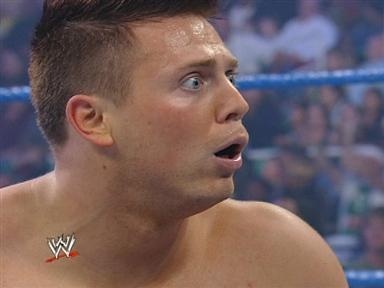 Mike "The Miz" Mizannin. Wow. what a charismatic guy, what a success. He accomplished so much with so little. These are just some of the comments you would hear from a typical "Mizfit." The Miz got his start in WWE by somehow getting second place on a special season of Tough Enough where the fans got to decide the winner. Do you see what happens when you let the fans have the power? Guys like this happen. Some of you may wonder why I do not like the Miz, and I have many many many reasons to hate him. First off, all he has is charisma, you need a LOT more than charisma in this industry but somehow people like him. Why, why, WHY?? Second, he seems more fit to be on that old VH1 show Tool Academy, as he has that severe douchey look and feel. The Miz is the sexual fantasy for Michael Cole and the envy of some men. I don't understand why people like him and everytime I search "why people like the Miz" on Google, all I see is that he "is a great wrestler and is a great role model." Why do they say that when all the Miz has ever shown us is calling himself AWESOME and saying "really?" repeatedly. That irritates me every time and I am aware that is what he is going for getting a reaction but it might offend me less if he wasn't such a bore. Everytime the Miz shows up on tv, I switch to TBS to watch Family Guy because at least Family Guy can keep me entertained and make me happy to watch. I don't want to sound like the always judgmental TMZ or Perez Hilton, but this guy is butt ugly. His face looks like it has a swollen jaw, God only knows how it got like that, he's got an overbite, he talks like a jack@$$, and he is overall offending to all of my senses because I have good taste, but not for Miz. How he smells to me is like a rancid carton of milk, now, I've never personally met this guy and hope that I never will, but he just gives off that smelly appearance to me. If you don't quite get what I am talking about, this is what I am referring to:
Another reason I can't stand this guy is because his new gimmick is totally unoriginal because don't you remember not that long ago a great man named Chris Jericho walked around using a monotone voice wearing suits? Seriously, I've seen more originality in a talk segment on TNA. Chris Jericho likes the Miz, which is just odd because most veterans of the ring that know wrestling should realize that the Miz is not all he is cracked up to be. Sure he got a victory over John Cena at Wrestlemania, sure he won Money in the Bank last year, but none of that matters because it is simply some idiots that write matches and storylines. Seriously, if Miz were to ever win the World Heavyweight Championship, I would stop watching WWE for a very long time. It would be like a bad storm that I am just waiting to pass over. The Miz has charisma, but too much of one thing is typically not going to get you very far in the wrestling business. Now that we have Triple H in the big boy chair, I don't think Miz will be seeing another WWE championship for a long time because Hunter aka Paul Levesque appreciates true talent. Miz is NOT true talent. He is not entertaining, and the only reason he is there is because he sells merchandise. John Cena sells merchandise, but at least he tries to learn how to expand his wrestling horizons. Miz is the modern day Ultimate Warrior because he is lazy in the ring, all he uses is charisma, and he has a fanbase that does not appreciate the finer points of professional wrestling. Recently, the Miz was named #1 on the PWI's top 100 wrestlers and I can tell you right now that is only because the writers of that magazine are part of that fanbase. Miz does not deserve that much praise. Why not Bryan Danielson or Randy Orton, hell, even AJ Styles. Those are the kind of guys who deserve to be at the top of the list, not some washed up reality television star. Thanks for reading and "tune in" next week if I haven't offended you too much. PS, Miz sucks, end of story.
Lineup of Upcoming Rips August 4-September 22
August 4- Yoshi Tatsu
August 11- Rey Mysterio
August 18- Michael Cole
August 25- Trent Barreta
September 1- Alicia Fox
September 8- Tyler Reks
September 15- Jack Swagger
September 22- Jinder Mahal
FINALLY! SOMETHING INTERESTING ON THURSDAY NIGHTS!



Posts

: 57


Join date

: 2011-07-05


Age

: 23


Location

: Midwest, USA






Posts

: 13


Join date

: 2011-07-10


Age

: 27


Location

: Iowa





Similar topics
---
Permissions in this forum:
You
cannot
reply to topics in this forum